Quarried Limestone MOT Type 1
Quarried Limestone MOT Type 1

Other Names: sub-base, MOT, DOT Type 1, Crusher Run
Consists of : Crushed Limestone to a finer grade. This is made to a specific standard set out by the Highways Department. Angular material that can be white or grey in colour.  It is easily compacted to create a hard finished surface.
Quarried Limestone MOT Type 1, conveniently delivered throughout Cheshire, offers versatile applications and strong reasons for purchase. This durable material, derived from limestone quarries, serves as a fundamental component in construction and road-building projects, providing a solid foundation for various structures.
Primary Uses:
Road Construction: It forms a stable sub-base for roads and highways, ensuring durability and load-bearing capacity.
Driveways: Used to create sturdy surfaces for residential and commercial driveways, withstanding vehicle traffic.
Pathways: Provides a reliable base for pedestrian pathways, preventing sinking and unevenness over time.
Benefits to purchasing this product:
Stability: Its robust nature prevents settling, maintaining surface integrity under heavy loads and usage.
Longevity: Quarried Limestone MOT Type 1's durability ensures long-lasting support, reducing the need for frequent repairs.
Structural Integrity: Offers a solid foundation that withstands heavy traffic, contributing to safer and more stable roadways.
Cost-Efficiency: Its long lifespan translates to reduced maintenance and replacement costs, providing savings over time.
Local Availability: Delivered in Cheshire, it ensures timely access for construction and road projects.
Uniform Composition: Consistent size and quality guarantee reliable performance across applications.
Eco-Friendly: Utilizes natural limestone resources, reducing the demand for virgin aggregates in construction.
In conclusion, investing in Quarried Limestone MOT Type 1 presents a sound choice for construction and road projects. Its stability, durability, and cost-effectiveness make it an indispensable material. By opting for this reliable foundation material, you ensure sturdy infrastructure, save on long-term costs, and contribute to local economic growth in Cheshire.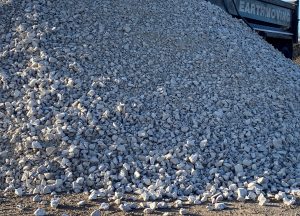 Delivered in 8-wheel tippers, generally in 20 tonne loads (mininum order 10 tonnes).
We cover all of Cheshire, Staffordshire, Shropshire and Chester and the surrounding areas.
Looking For recycled aggregates?? Click Here